Description
THE CHALLENGES OF FLYING DJI MAVIC 3 DRONES IN THE DARK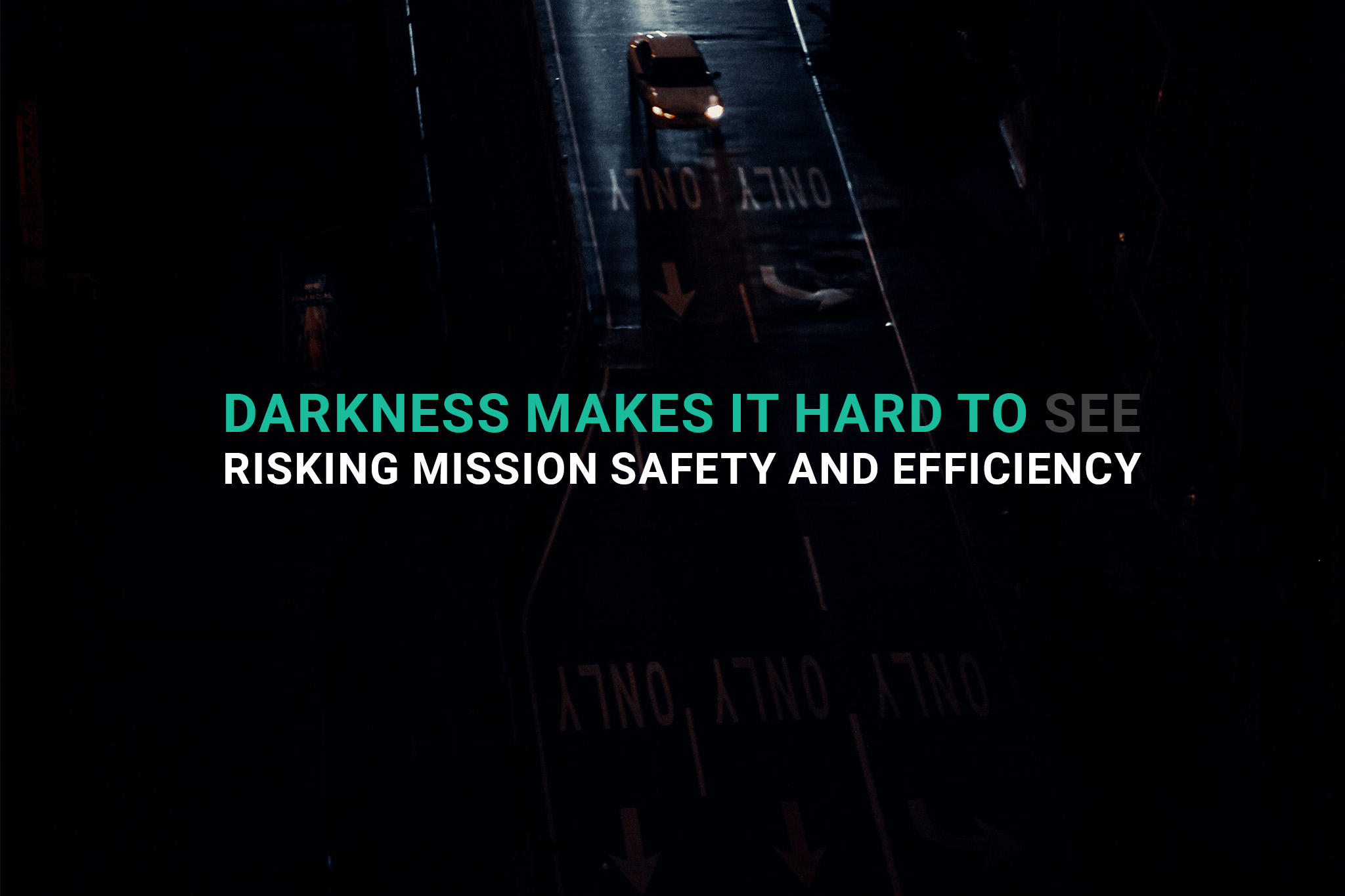 Drone pilots face substantial difficulties when utilizing DJI Mavic 3 drones in nighttime or low-light missions. The darkness hinders the ability to see, capture visual data with colors, and make real-time decisions. Lack of visibility increases the risk of collisions with hazards such as powerlines and trees. These challenges jeopardize the safety of drone operations and the effectiveness of emergency response efforts.
Existing drone lighting solutions for DJI Mavic 3 have critical limitations that hinder efficient nighttime mission sets:
Fixed Light Angle: For fixed light solutions, pilots often must pre-set drone light angles. A misjudgment means recalling the drone for adjustment, wasting time and affecting efficiency.
Insufficient Brightness: Many drone lights can't illuminate past 50 feet in altitude with full field of view, restricting the camera's vision and operational range in darkness. Additionally, the payload-SDK-port (PSDK) on enterprise drones lacks the power to deliver high-intensity brightness levels.
Lack of 90-degree Downward Angle: Some lights can't point straight down or illuminate the whole field of view, hindering tasks like mapping or direct data capture beneath the drone.
Mounting Delays: Attaching certain lights can take valuable time, delaying immediate emergency responses.
High Costs: Many efficient solutions involve investing in costly professional drones with lights, ground lighting, or renting helicopters, but these can introduce financial strain and may not always be readily available for immediate deployment, potentially affecting response times.
Addressing these limitations is crucial to enhance situational awareness, safety and efficiency during missions in the dark.
INTRODUCING TUNDRA DRONE AUTOMOVING LIGHT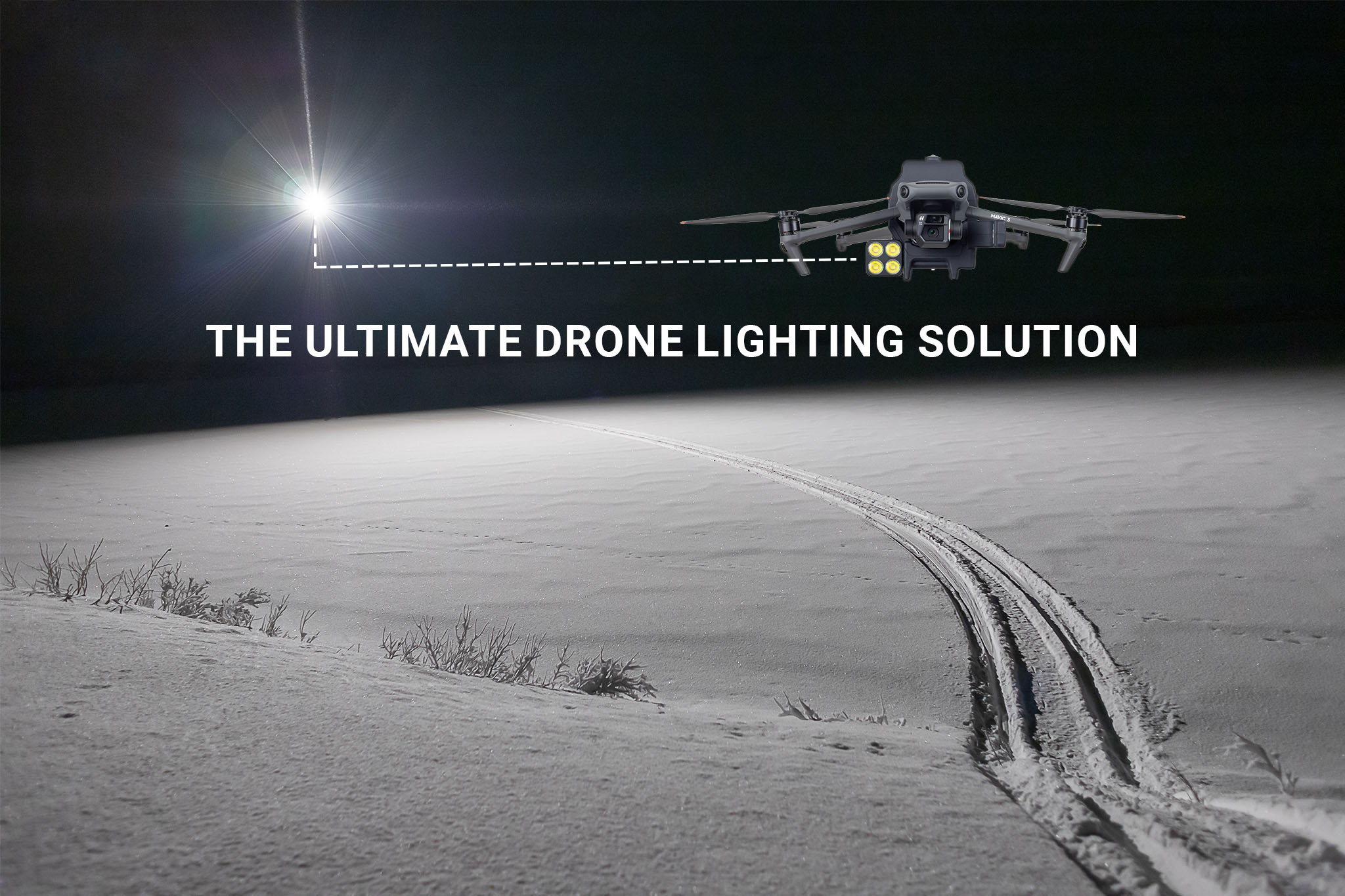 The world's brightest drone light designed for the DJI Mavic 3-series. It features patented camera-tracking technology to provide optimal illumination. Unleash the power of 10,000 lumens brightness to overcome the challenges of nighttime missions.
The Automoving light is here to transform drone operations in darkness, revolutionizing how drone pilots illuminate their missions. Say goodbye to vision constraints and elevate to an era where unparalleled situational awareness, utmost safety, and increased efficiency lead the way.
For public safety professionals, inspection teams, and commercial pilots, this is the ultimate drone lighting solution. It not only elevates illumination standards but is also a cost-effective alternative to larger drones with lighting, helicopter usage, or less efficient third-party lights.
KEY FEATURES
Powerful 10,000 Lumens Brightness: This is the world's brightest Automoving drone light for the DJI Mavic 3. It provides unparalleled illumination exactly where you need it. This empowers your mission to see the big picture in the dark, like in broad daylight.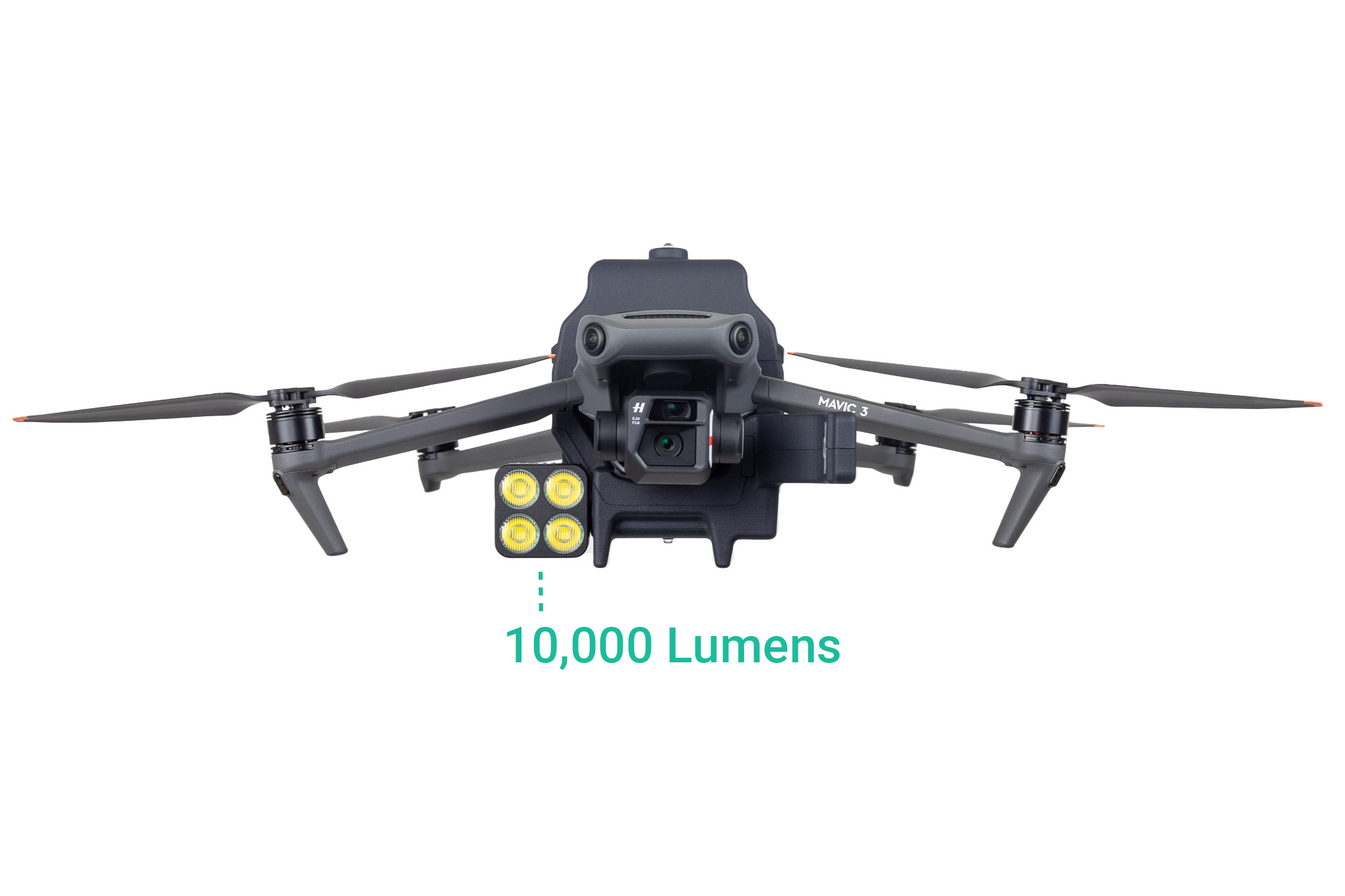 Camera-Tracking Drone Light: The patented solution utilizes computer vision to automatically track your camera's direction. This ensures optimal lighting in every angle and field of view, ultimately enhancing your situational awareness. Additionally, the light can point straight down 90 degrees, making it perfect for illuminating and capturing visual data directly beneath the drone.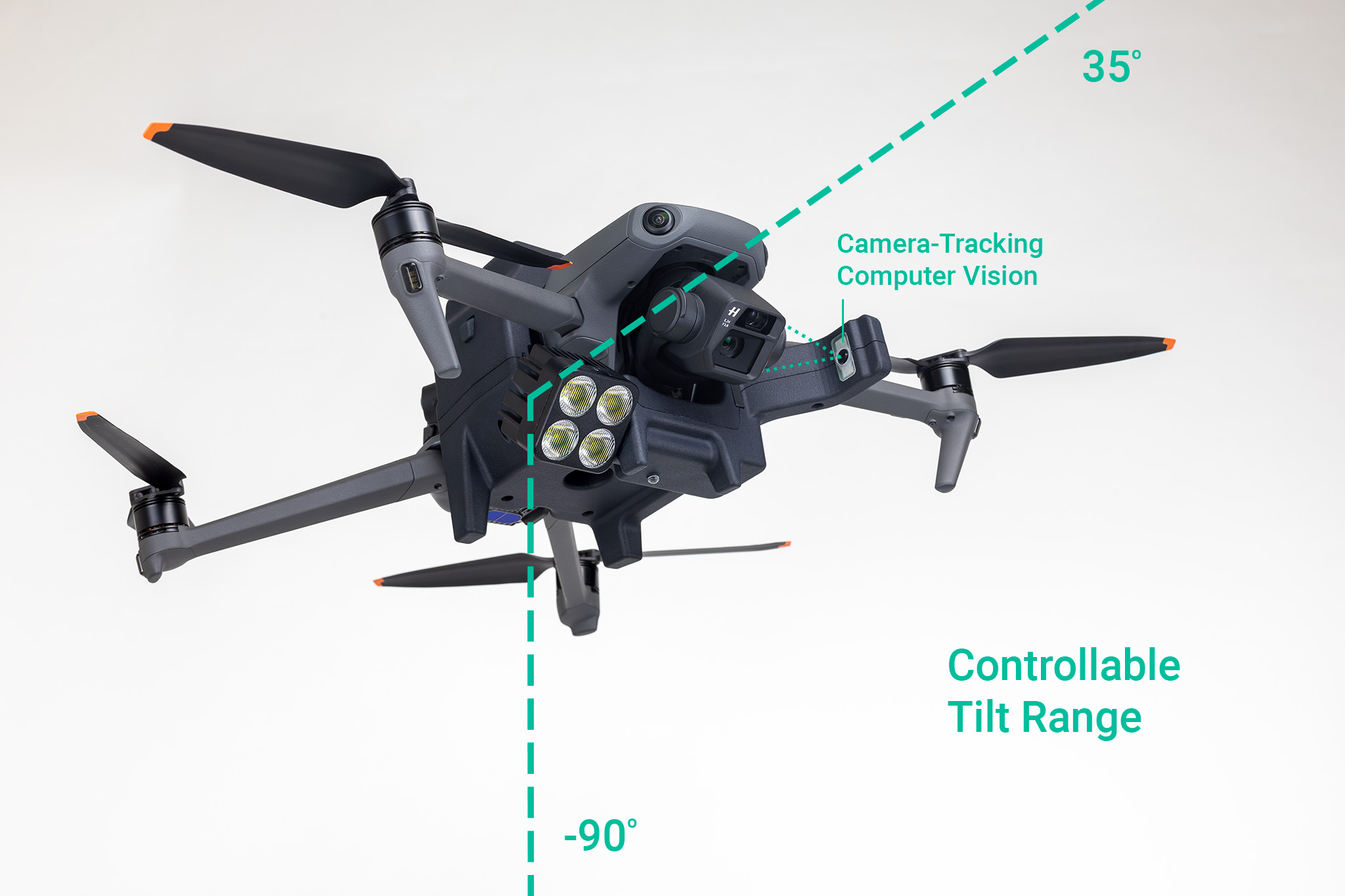 Continuous Lighting with Rechargeable External Batteries: The Automoving light's battery life matches the drone's flight time[1]. Both light and drone battery can be quickly swapped when landing, ensuring uninterrupted operation limited only by your reserves.
Perfectly Designed for DJI Mavic 3: Easily mount or remove the light for swift take-off and packing, optimizing response times. Designed for operation directly via your DJI controller, it's compatible with all versions of DJI Mavic 3, including Enterprise.
Built-in FAA-Compliant Anti-Collision Lights: Two high-intensity anti-collision (strobe) lights are integrated and visible from 3 statute miles, for safer flying at night. The green strobes, flashing 60 times per minute, help to maintain visual line of sight and alert other aircraft of your drone's presence.
Robust and Reliable: The Tundra Drone Automoving light is designed with durability in mind, being both dust and water repellent. Engineered using robust materials and high-quality components, it's built to last. Furthermore, its design and mounting system ensure minimal maintenance across countless operations.
SEE THE BIG PICTURE AT NIGHT
See the remarkable difference the Automoving light makes in your nighttime missions.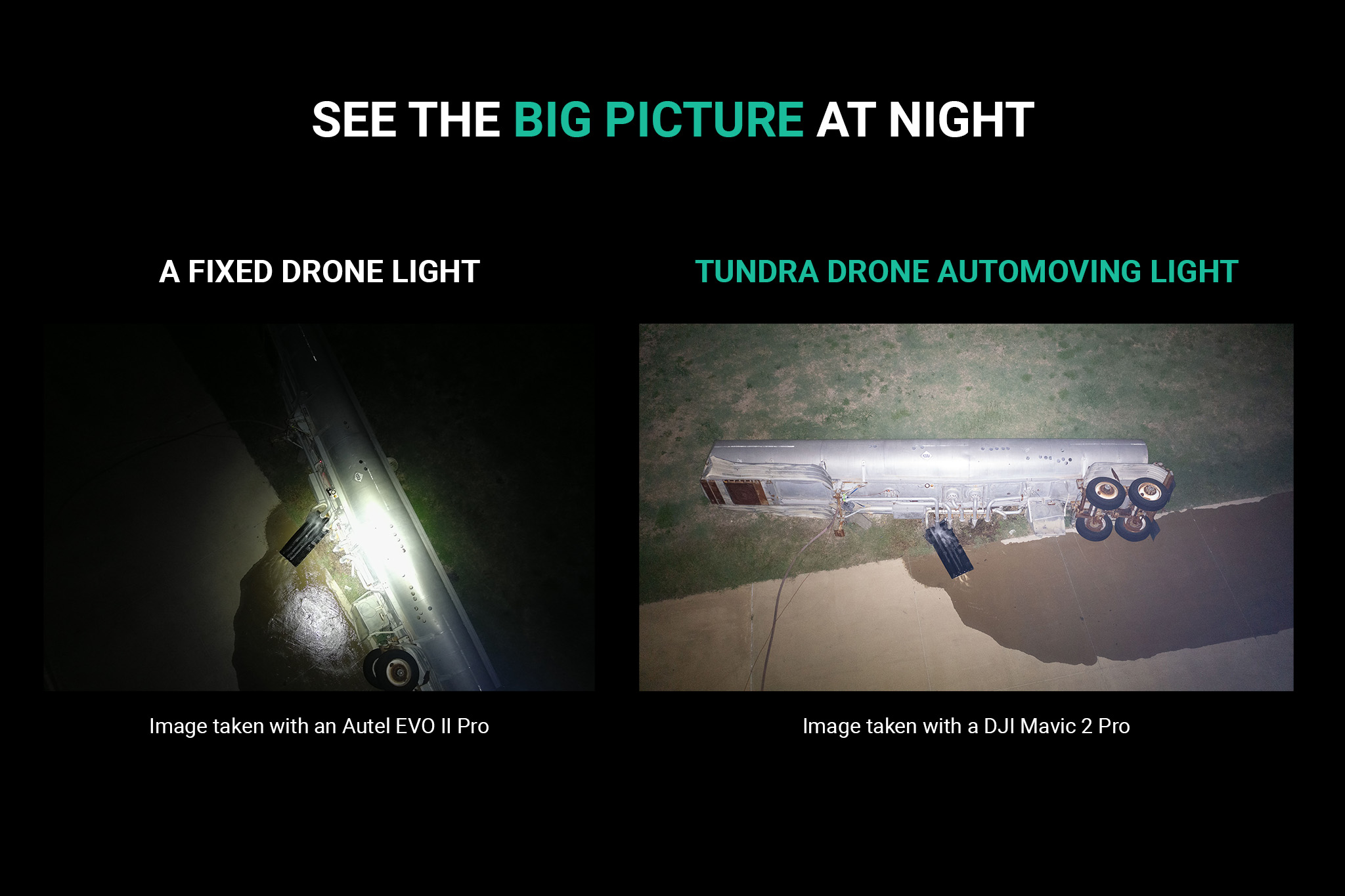 CUSTOMER FEEDBACK
Hear from professionals who are using the solution in their missions: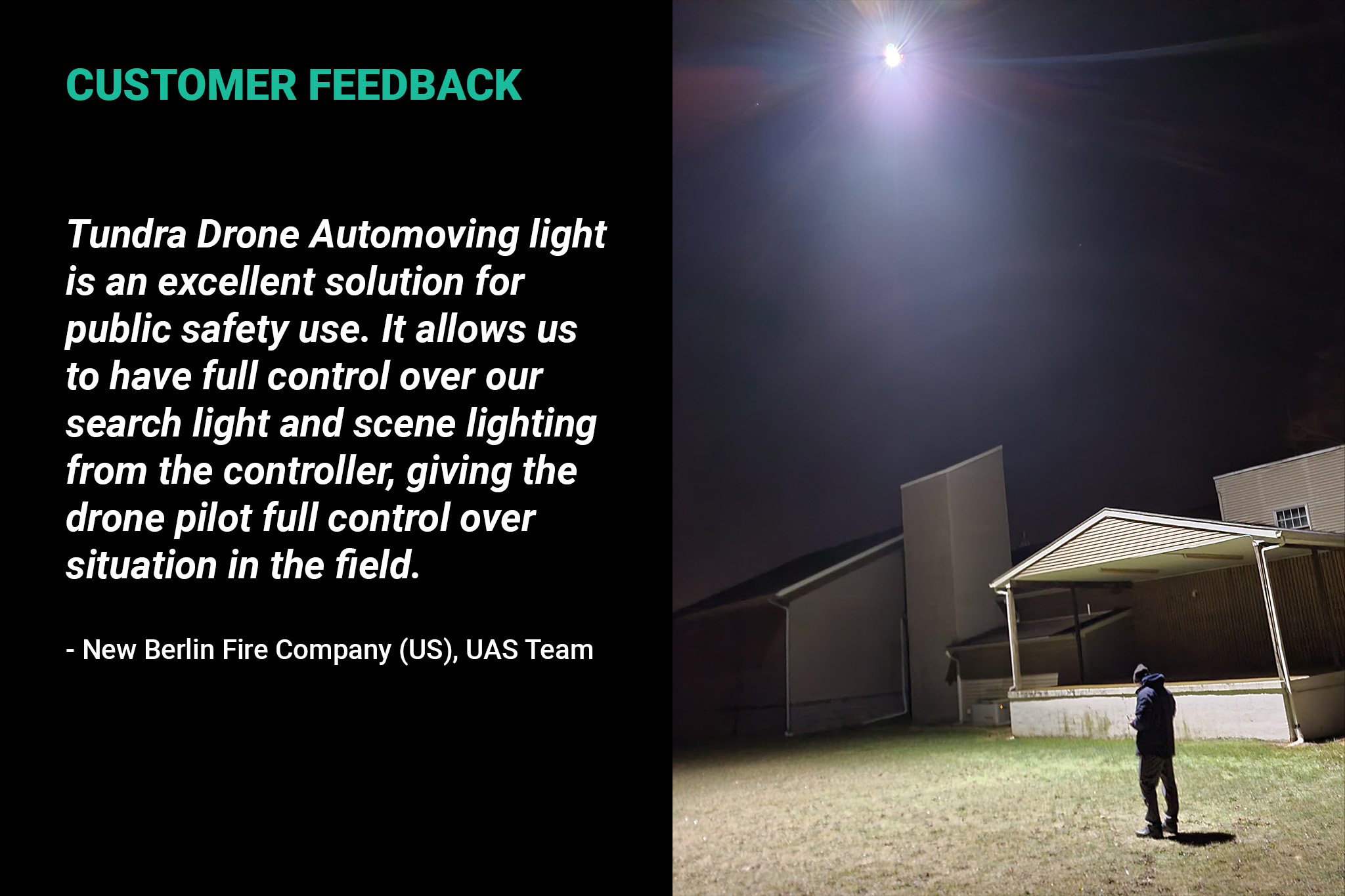 The automatic moving drone light gives us the opportunity to troubleshoot in the dark wintertime. The pictures look as if we are flying in daylight.
– Alut AS (NO), Gunn-Elin Knutsen, Power Distribution Engineer
BENEFITS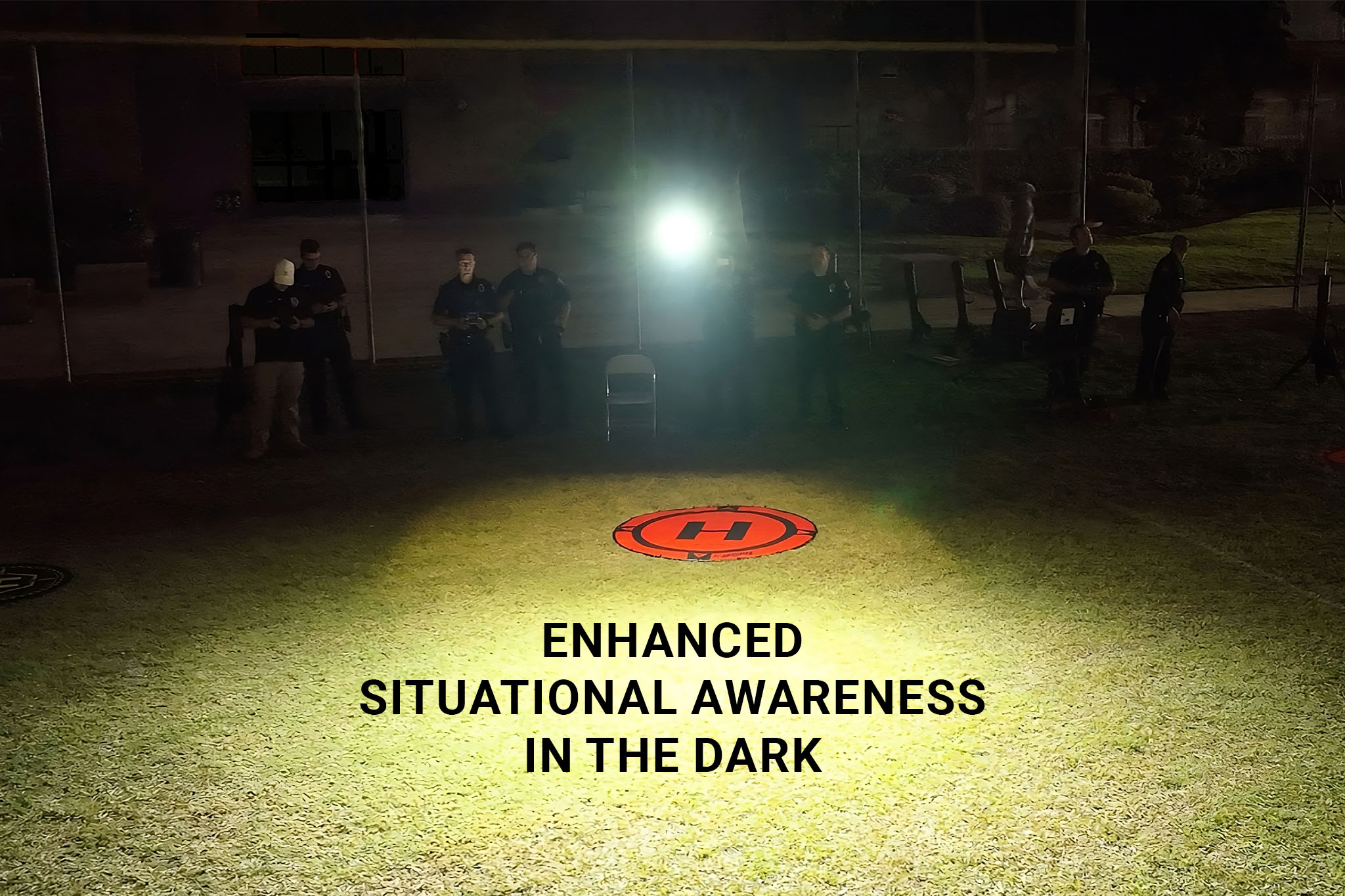 Save Lives: Improve nighttime search and rescue capabilities, boosting your team's ability to respond to emergencies swiftly.
Improve Safety: Optimally illuminate scenes from the air, enhancing your team's situational awareness after dark. This aerial lighting not only makes your missions safer but also aids in identifying victims, potential threats, and hazards like powerlines and trees during emergency response.
Maximize Return on Investment (ROI): Enhanced visibility in the dark improves safety, which in turn speeds up target location and situation assessment, leading to quicker emergency response. These improvements contribute to increased mission success and a higher ROI, thanks to more efficient resource use and reduced field time.
Consistent Visual Data Quality: The light ensures reliable, high-quality visual data capture with true colors during nighttime operations. This clarity leads to more accurate assessments and confident decision-making in real-time or after the mission is completed.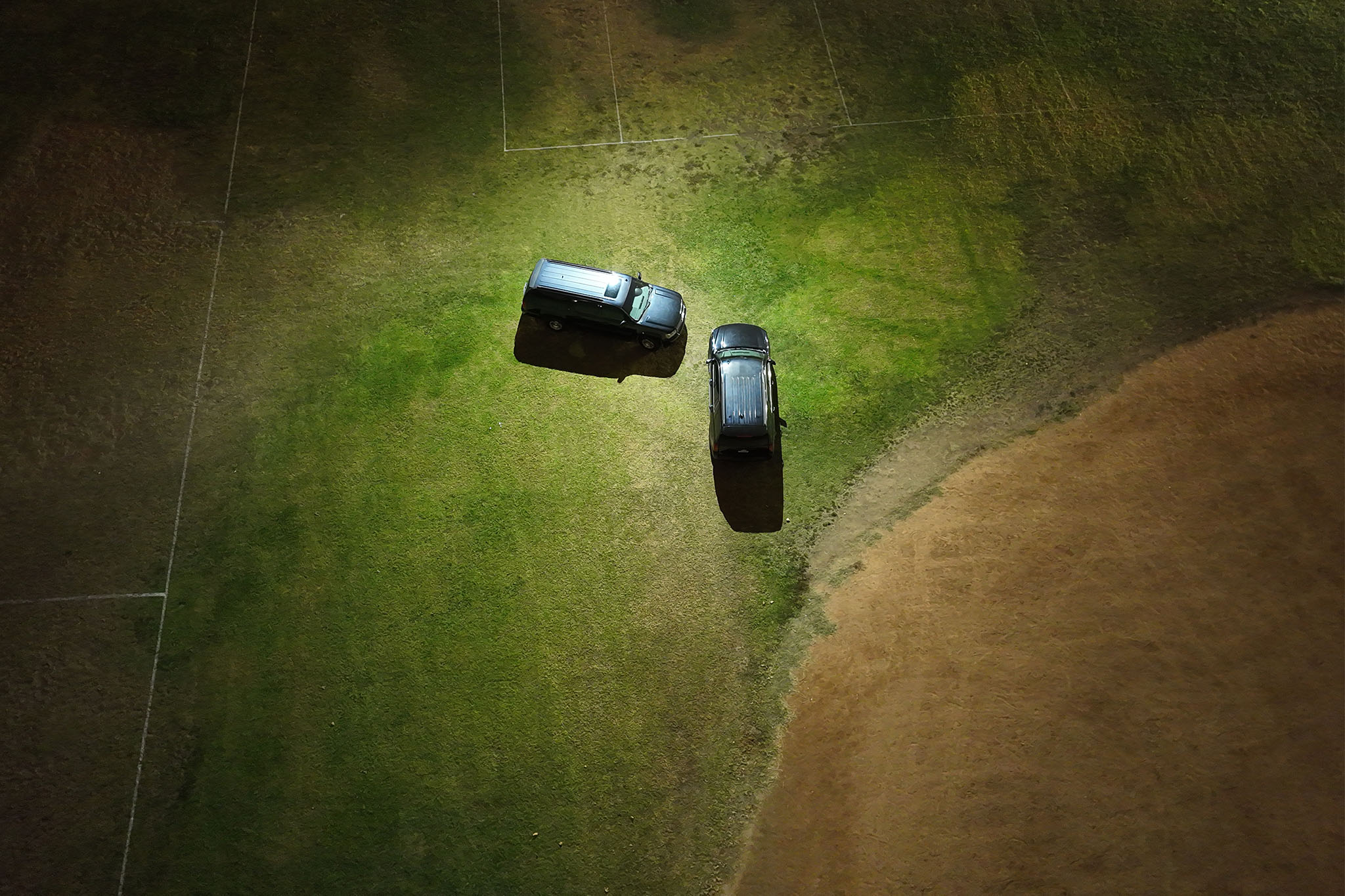 Extend Operational Hours by 12: The bright illumination enables extended operational hours into the nighttime, maximizing effectiveness and increasing mission success rates.
Effortless Integration: The light's auto camera-tracking and intuitive design mean minimal training and immediate integration into nighttime operations.
Save up to $27,500 per Drone Kit[2]: No need to invest in expensive professional drones with lighting.
APPLICATIONS IN THE DARK
The Tundra Drone Automoving light is designed for professionals who need to be equipped for missions in dark and low-light conditions, such as:
Search and Rescue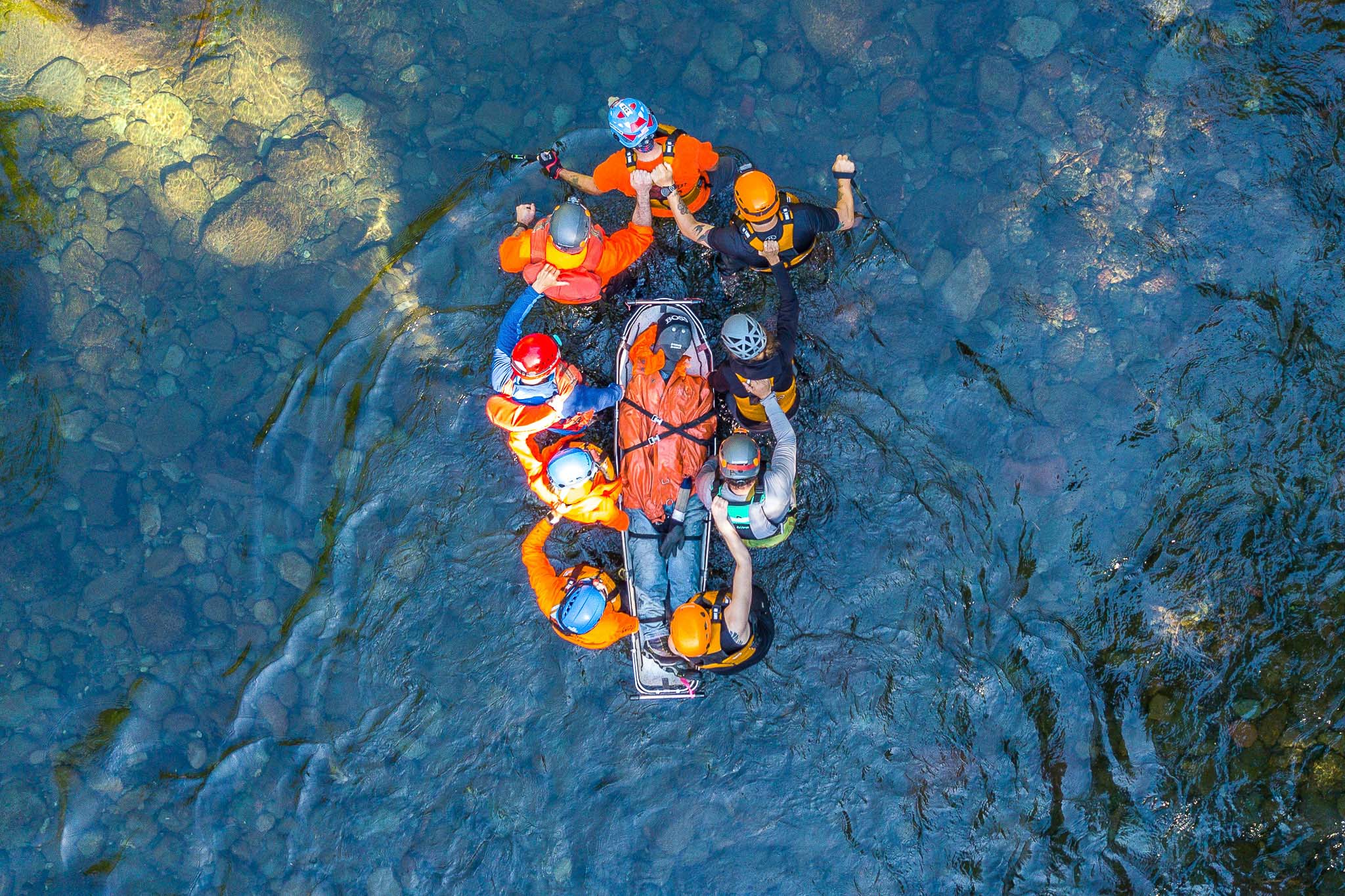 Quickly locate a missing person using a thermal camera, then use the light to illuminate the area for improved situational awareness and determine how to save the person.
Law Enforcement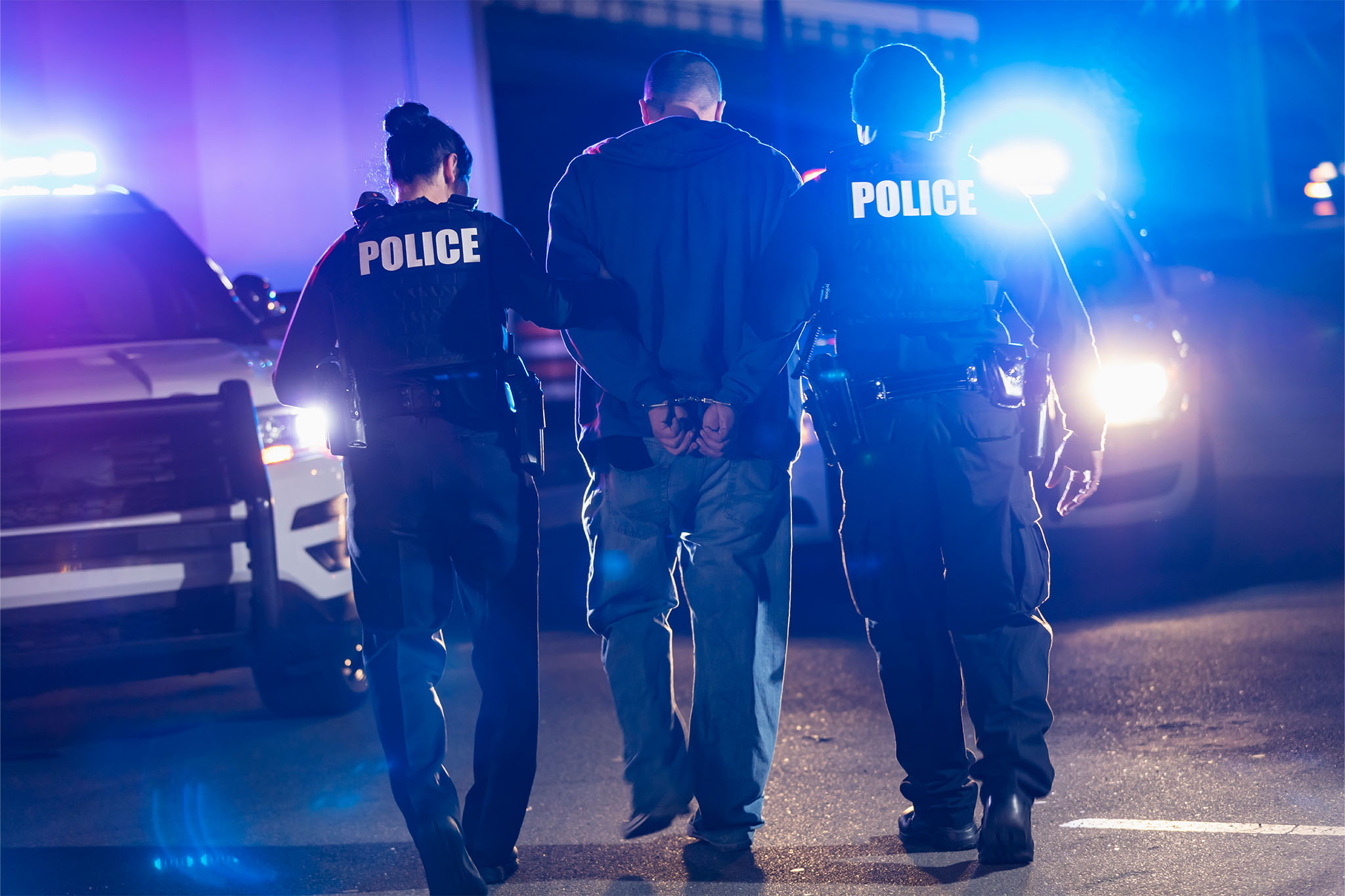 Suspect / Subject tracking
Vehicle clearing or vehicle searches
Location and roof checks
Area search
Night-time tactical operations (tactical concealment and diversion)
Thermal hotspot checks (use RGB camera with bright lighting to see hotspots in color)
Mapping low-light crime scenes or traffic collision scenes[3]
Firefighting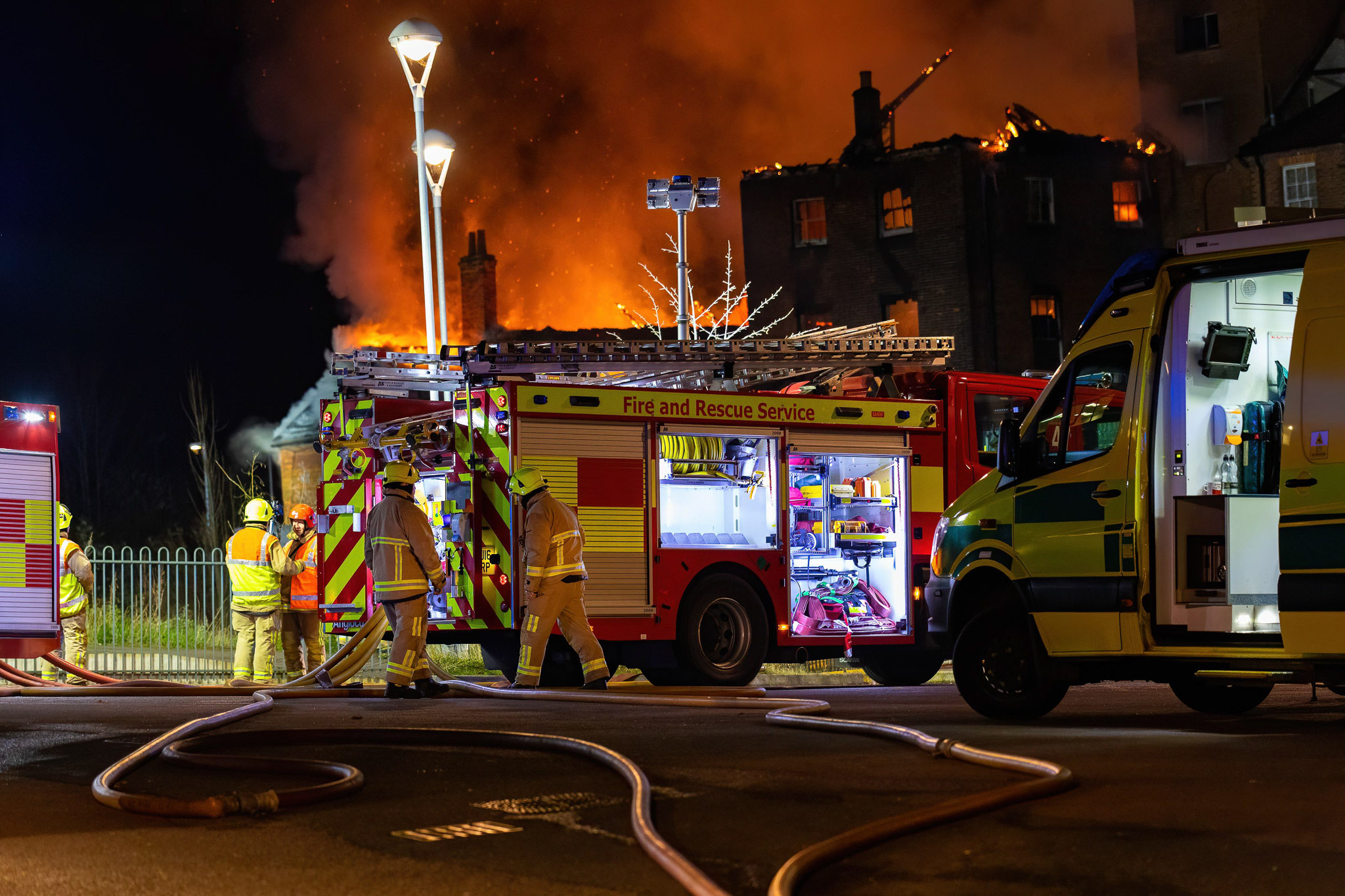 Missing person call
Illuminate a remote location when fire truck is not close by
HazMat incident in a remote location
Night-time technical rescue
Swift water rescue calls
Illuminate inside a structure, post fire by arcen investigation
Low light mapping[3]

Wildfire burnt area
After a structure fire, map the fire ground
Inspection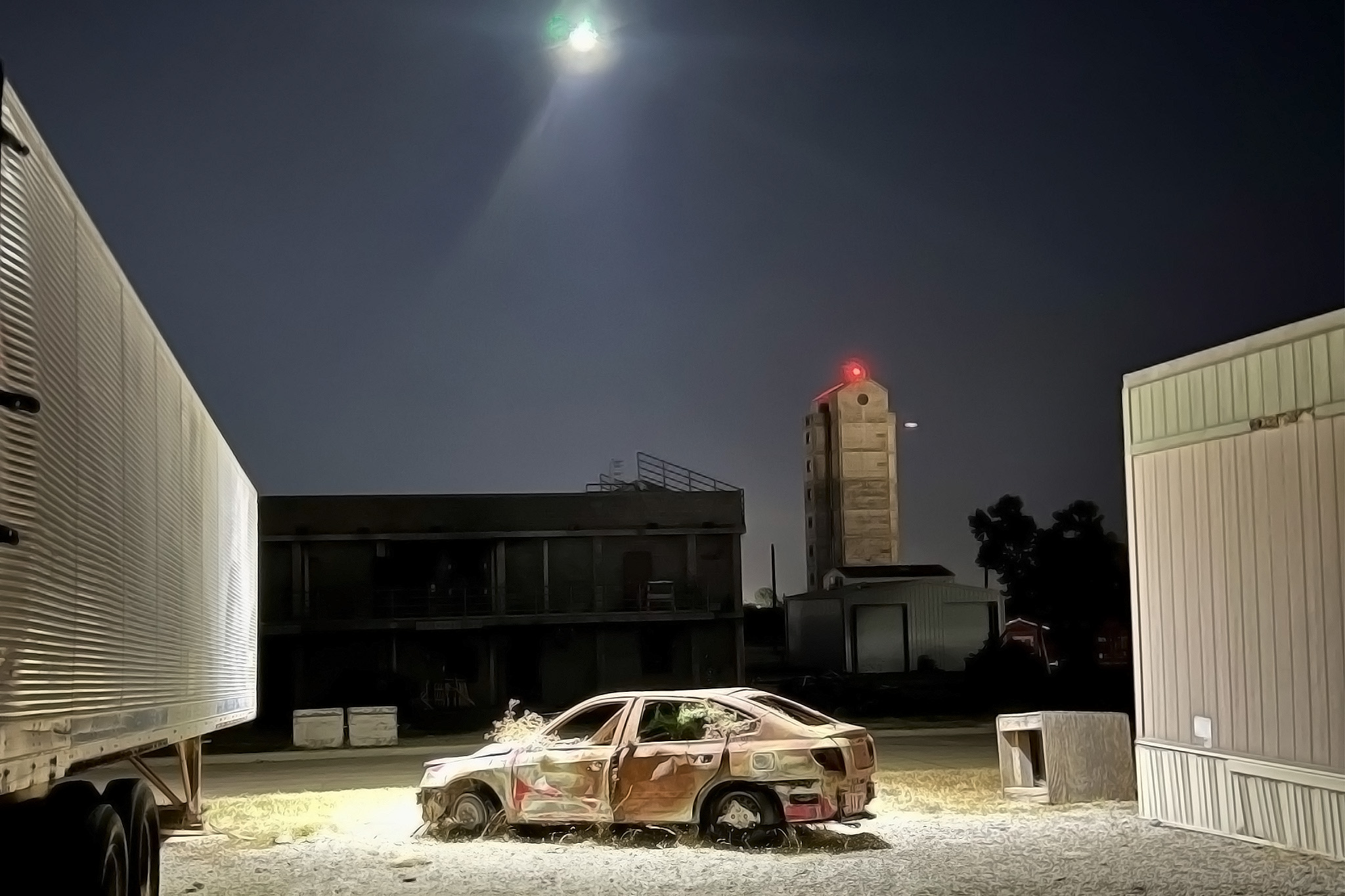 Utilize the drone light for emergency response and maintenance inspections, enabling 24/7 asset inspection to collect vital data without risking personnel safety in the dark.
Commercial Photography and Filming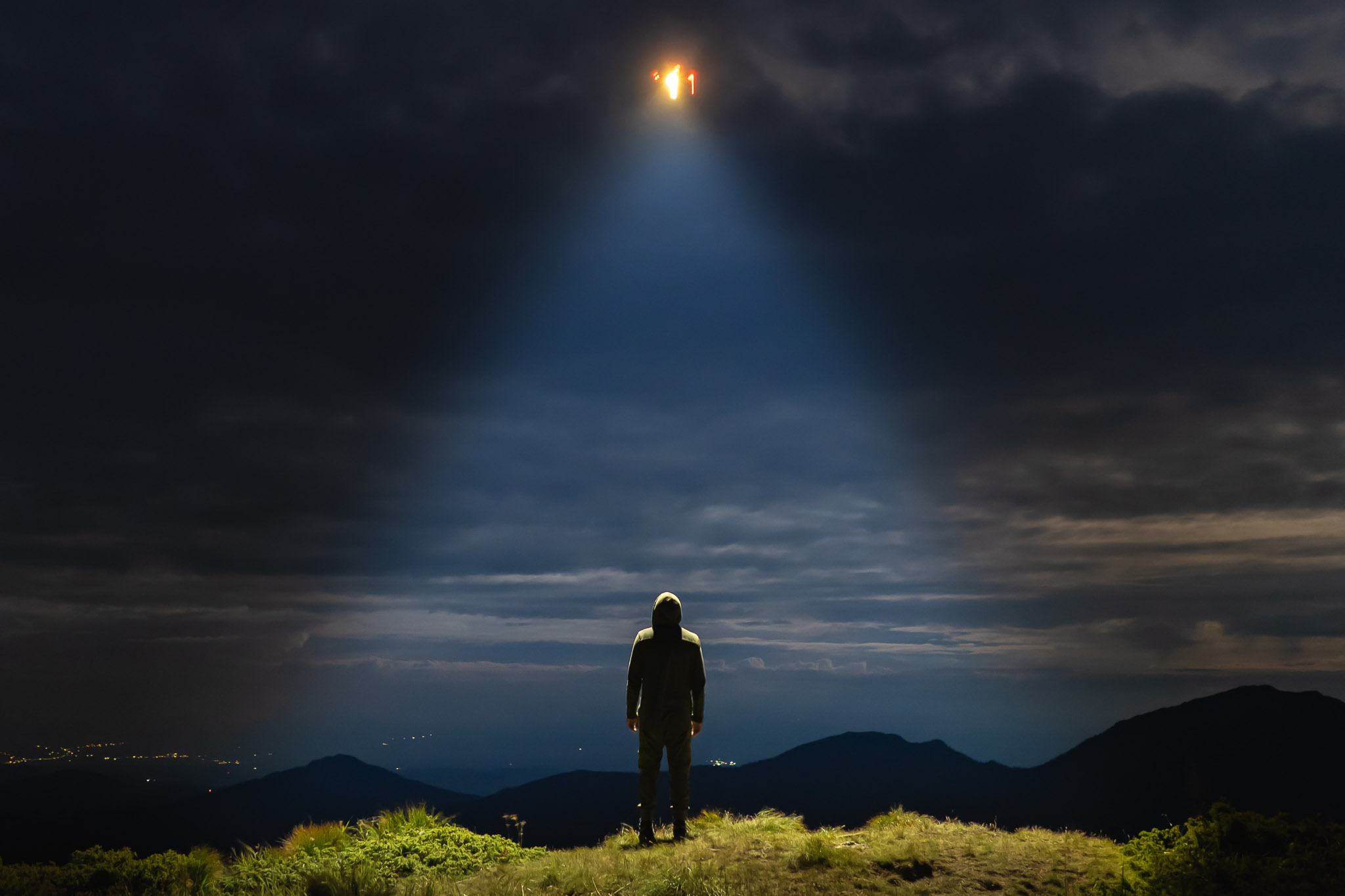 The bright lighting offers unlimited creative possibilities to create illuminated imagery and video content for commercial purposes.
COMPLETE LIGHTING SOLUTIONS
Choose the Automoving light tactical responder kit that meets your mission's requirements: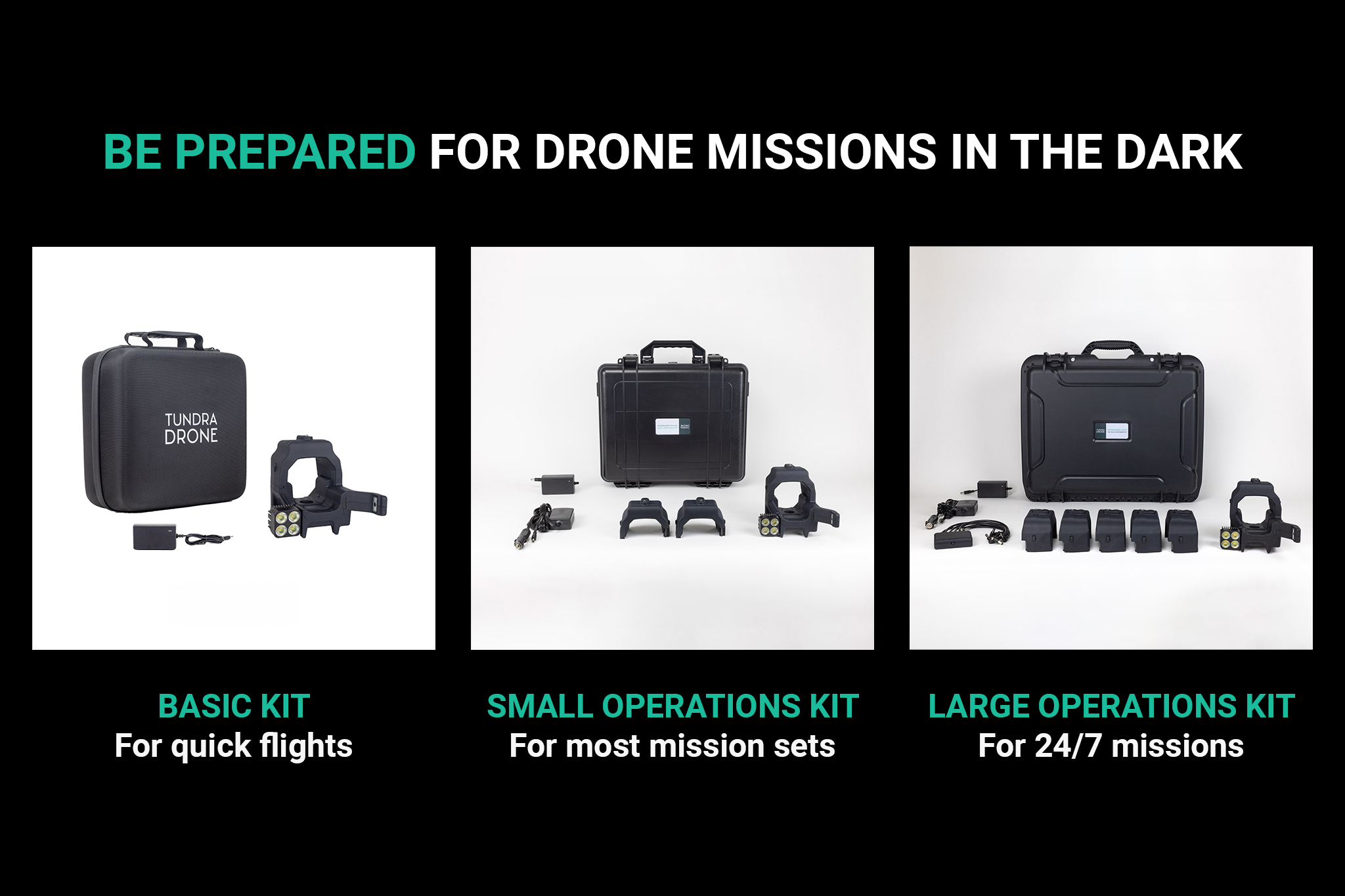 ESSENTIAL ACCESSORIES
Available spare or optional accessories to your lighting kit:
Spotlight Lens: The standard floodlight diffuser lens boasts a wide beam angle, illuminating the entire field-of-view from altitudes up to 165 feet. Meanwhile, the optional spotlight lens offers a narrow beam, providing the longest operating range available for the Mavic 3 drones.
Extra Batteries: Extend mission duration with additional battery packs.
Transport Cases (small/large): Safely transport your lighting gear.
Car Charger: Charge batteries on the road.
Battery Charger Hub: Charge multiple batteries in sequence.
Extra Battery Charger: Have a spare charger on hand.
IN THE BOX
TUNDRA DRONE AUTOMOVING LIGHT FOR DJI MAVIC 3
Basic Kit – For quick flights
1 Tundra Drone Automoving Light
1 Battery Pack
1 Battery Charger 110V/220V
1 Carrying Case
Tactical Responder Kit (Small Operations) – For most mission sets
1 Tundra Drone Automoving Light
3 Battery Packs
1 Battery Charger 110V/220V
1 Car Charger 12V
1 Transport Case (Small)
Tactical Responder Kit (Large Operations) – For 24/7 missions
1 Tundra Drone Automoving Light
6 Battery Packs
1 Battery Charger 110V/220V
1 Car Charger 12V
1 Battery Charger Hub
1 Transport Case (Large)
Please note: The drone itself is not included in the box.
SPECIFICATIONS 
TUNDRA DRONE AUTOMOVING LIGHT FOR DJI MAVIC 3

Compatible drones
DJI Mavic 3T, Mavic 3E (Enterprise)

DJI Mavic 3 Pro, Mavic 3 Classic, Mavic 3

Operating Range
Floodlight Lens: 165 feet / 50 m

Spotlight Lens (optional): Coming soon

Illuminance
Luminosity: 10,000 lumens

FOV: 84 degrees (Same as DJI Mavic 3)

Color Temperature: 5700K

Light's Tilt Angle Range
+35o to -90o (same as the drone's camera)
Anti-Collision Lights (strobes)
Color: Green

Flash Frequency: 60 times per minute

Visible Distance: 3 statute miles

Modes (main lamp)
ON/OFF, Strobe (main lamp)
Max Flight Time with Unit Mounted
25% reduction [1]
Battery Life
30 minutes (with max brightness)
Battery
11.1V, 3500mAh, 39Wh
Color
Black
Dimensions
5.6×6.1×6.7'' / 14.3×15.5×17.1 cm
Weight
Approx. 0.89 lbs. / 406 g
Remote Controller Range
Same as the drone's remote
Operating Temperature
-40° to 104° F (-40° to 40° C)
Flight time reduction of 25% is measured in comparison not having the unit mounted on the aircraft. Measured at a constant speed of 10 m/s in windless conditions, and 20% remaining battery capacity of the DJI Mavic 3 drone when landing. The flight time may vary depending on weather and other conditions.
Total cost of a Prosumer or Enterprise drone kit with Tundra Drone Automoving light Small Operations Kit ($3,900 to $9,400) vs. a Professional drone kit with a drone light payload ($31,440). Comparable prices may change over time.
Using drones with automatic mapping software at night can present challenges because the drone light creates shadows that can shift based on the drone's position. Manual flying might be needed to control shadows.
Illuminate your missions with the Tundra Drone Automoving light for DJI Mavic 3. Enhance team performance and unlock nighttime operational potential.
Order today and increase safety, efficiency, and mission success in the dark!